Obviously, the Guireans are the original and purest artistes in the genre of Avante Gaelic Obscurist Folk Rock (AGOFR).
Some lesser practitioners of the genre have their websites listed below:
---
aka "Lechends of AGOFR 30th Anniversary Tour"
Find out more about the mysterious Ewetube sensations from Sounds in the Grounds 2009
---
Overproduced pomp-AGOFR rooted in 70s prog virtuosity and verging dangerously close to "proper" music.
---
Early-80s Matheson Road AGOFR dilettantes and townie rivals to the Guireans
---
The Made Up History of Stornoway
This completely untrue series of articles about the Outer Hebrides' capital could be termed Avante Gaelic Obscurist Folk History
Also on Facebook

---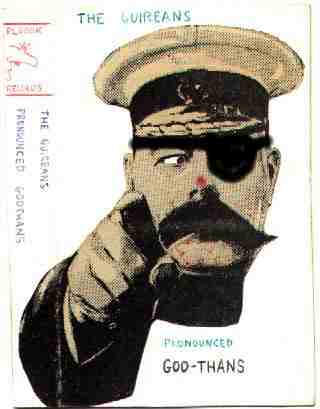 Go to the Library and find out everything you never wanted to know about the Guireans and their place in Avante Gaelic Obscurist Folk Rock mythology.
Hosted within a high-end supercomputer simulation of a dilapidated portakabin on Keith Street, the Library includes the band bio/tapeography, live appearances, links, old news - all the stuff that used to be on the old Guireans msn groups site
Now if only we could get rid of the virtual old bleigeards who come in every day and lurk in the reference section...
---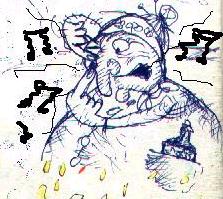 Current day-to-day Guireans ruppish - news, posts, comments etc.
---
Between MSN and Facebook, most of the Guireans' day-to-day blogs, song posts etc were on Myspace. There's still a page there but there's fleek all on it nowadays.

---
---
---
Guireans-related-bands who aren't AGOFR but are too mean to buy their own web domain names...
---

Sandwick's meanest rockinest 60s garage combo (of the 1980s)
Bio, tapeography, pictures, videos etc.
---

21st century descendants of the Subterraneans
---
O mo chreach - Mysterious Gaelic-only garage/psyche combo from somewhere in the Isle of Lewis and not related to any Guireans at all. Their myspace page is a bit dead but here's a video...
---
Easy listening folk/pop acoustic singer/songwriter with no connection to any of the above.
---
Occasional Guirean Roddy "Rod Morison" Morrison's musical outpourings (when he's not being in Kroftwerk)
---